ENGLISH VERSION
Search, subject catalogue and retail

We are antique dealers exclusively specialized in antique prints. For 30 years we had our shop, the "Stamperia", located in the heart of the old Lecco village, in a XVth century building property in the past of Stefano Martini's family, the first prints maker in Lecco, and one of the first in Italy, since 1471.

Now we work only online and the prints we propose are the result of a wide and constant professional research through the ways of the antique trade; we select them for originality and quality and all have an extensive data sheet classification and guarantee.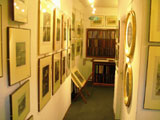 The wide choice, with regard to the price as well, give us the possibility to satisfy every customer.